Voted Top 10 by The Trademark Lawyer Magazine!!!
August 2023
We are absolutely delighted to have been selected as one of the Top 10 law firms in the field of intellectual property and trademarks in Germany.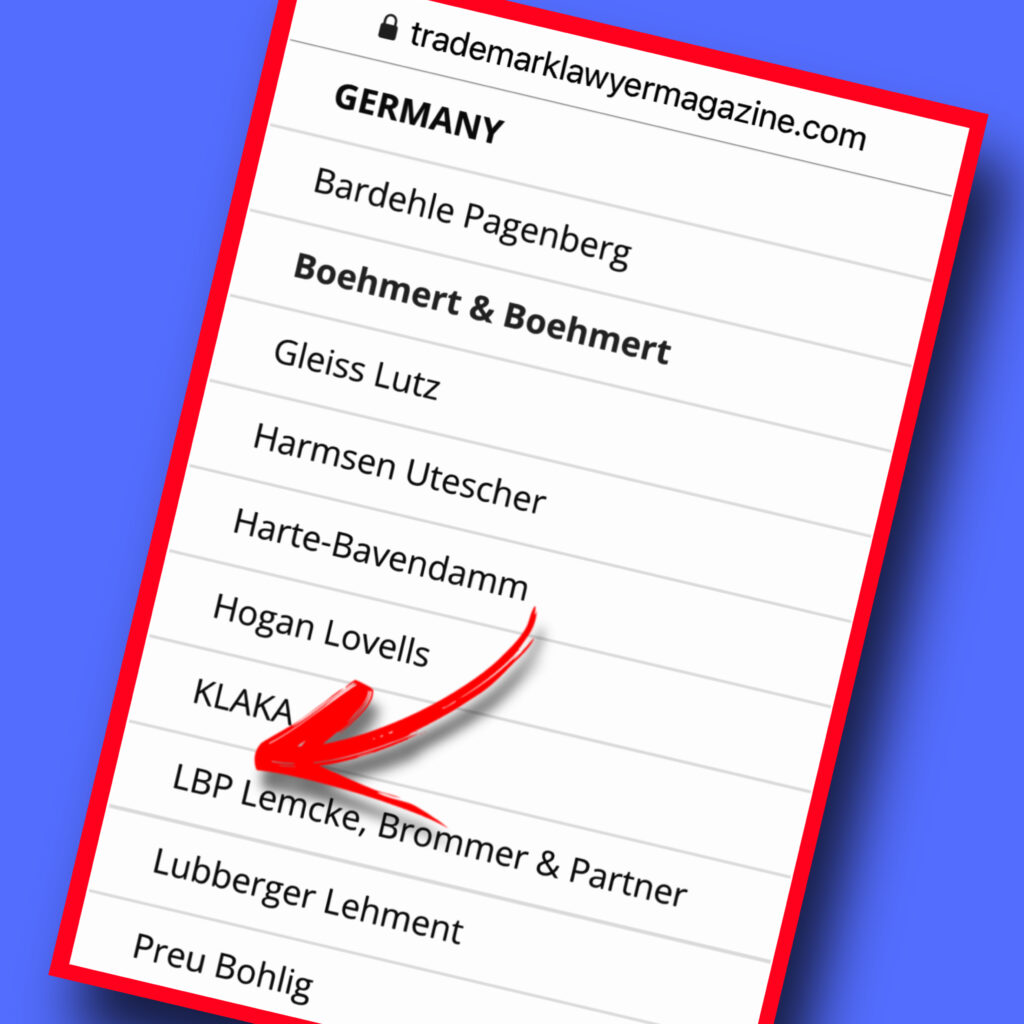 We are thrilled to announce that LBP Lemcke, Brommer & Partner has achieved a remarkable milestone by securing a position among the Top 10 IP and Trademark Law Firms in Germany. Being acknowledged as one of the leading law firms in the realm of intellectual property and trademark law not only validates our hard work and dedication but also underscores our commitment to maintaining the highest standards in legal counsel. The journey to becoming a frontrunner in intellectual property and trademark law has been one of steadfast commitment. Throughout the years, we have diligently expanded and refined our expertise in this complex field. This achievement would not have been possible without the exceptional talent that constitutes our team. Our patent attorneys and legal experts bring an array of specialized knowledge and experience to the table, enabling us to curate solutions tailored to our clients' needs.
This prestigious recognition comes from the esteemed The Trademark Lawyer Magazine, a well established and recognized brand within the global IP community. It is a key media partner for INTA, IPO, ECTA, MARQUES, AIPPI, AIPLA, ASIPI + many other IP associations and conference providers.
The Editorial and Research Team conducted extensive investigation to highlight the leading IP and trademark firms in each jurisdiction, to recognize the hard work and improvement that firms have achieved, and to help clients select the best firm for their needs. This Top 10 ranking is the result of a multi-faceted methodology that incorporates months of industry research and feedback from the readers, clients and valued connections around the world. The comprehensive list of the 10 most respected law firms in Germany is published in alphabetical order. It has to be pointed out that he firms cannot pay for a position in this ranking- the Top 10 are produced from the magazines research.
Some of the aspects of research are:
Existing market reputation in the field;
Cited achievements within the last year;
Work in niche areas and unique strengths;
Accessibility;
Testimonials of clients and partners;
Regularity of informative materials being promoted and engagement by the firm (e.g. news/articles, press releases, interaction and presence on social channels);
Website ranking and usability;
Customer testimonials and recommendation;
Third party rankings and achievement recognition;
Activity in the legal space (e.g., with associations, conferences, webinars)
It is therefore no surprise that we are absolutely delighted to have been selected by The Trademark Lawyer magazine as one of the Top 10 IP and trademark law firms in Germany.
To be included in the list of the Top 10 law firms for trademark law in Germany as the only purely patent attorney firm alongside the two renowned mixed firms Bardehle Pagenberg and Boehmert & Boehmert pleases us even more. This study vividly shows that patent attorneys like us can also be recognized experts in trademark law.
Our heartfelt gratitude extends to all our clients, partners, and team members who have contributed to this accomplishment. Your trust is highly valued, and we look forward to jointly penning the next chapters of this success story.
Do you have any questions on this topic?
Please feel free to contact us.
Quelle: The Trademark Lawyer
All Posts