The International Department at LBP
February 2023
Does an IP law firm need an International Department and what are its tasks?
The patent law firm LBP Lemcke, Brommer & Partner – located in the heart of the technology region Karlsruhe – has seven patent attorneys with their teams and different areas of expertise, technical and legal experts and a very dedicated back office. But it also has its own foreign department, the International Department, internally referred to as INT, for an extended qualified support of the law firm's numerous international clients and correspondent attorneys.
The fact that the INT has three staff members reflects its high workload and importance within the firm.
Anna-Lena Krah, Fotini Masucci and Head of Department Silke Beckhusen really enjoy working in the same room – definitely the most plant-filled room in the office. This already gives an idea of the positive energy that prevails here.
International Department in a patent law firm sounds somewhat surprising at first glance. What exactly does the INT stand for and what are its tasks/responsibilities? Learn more about our INT in a short interview: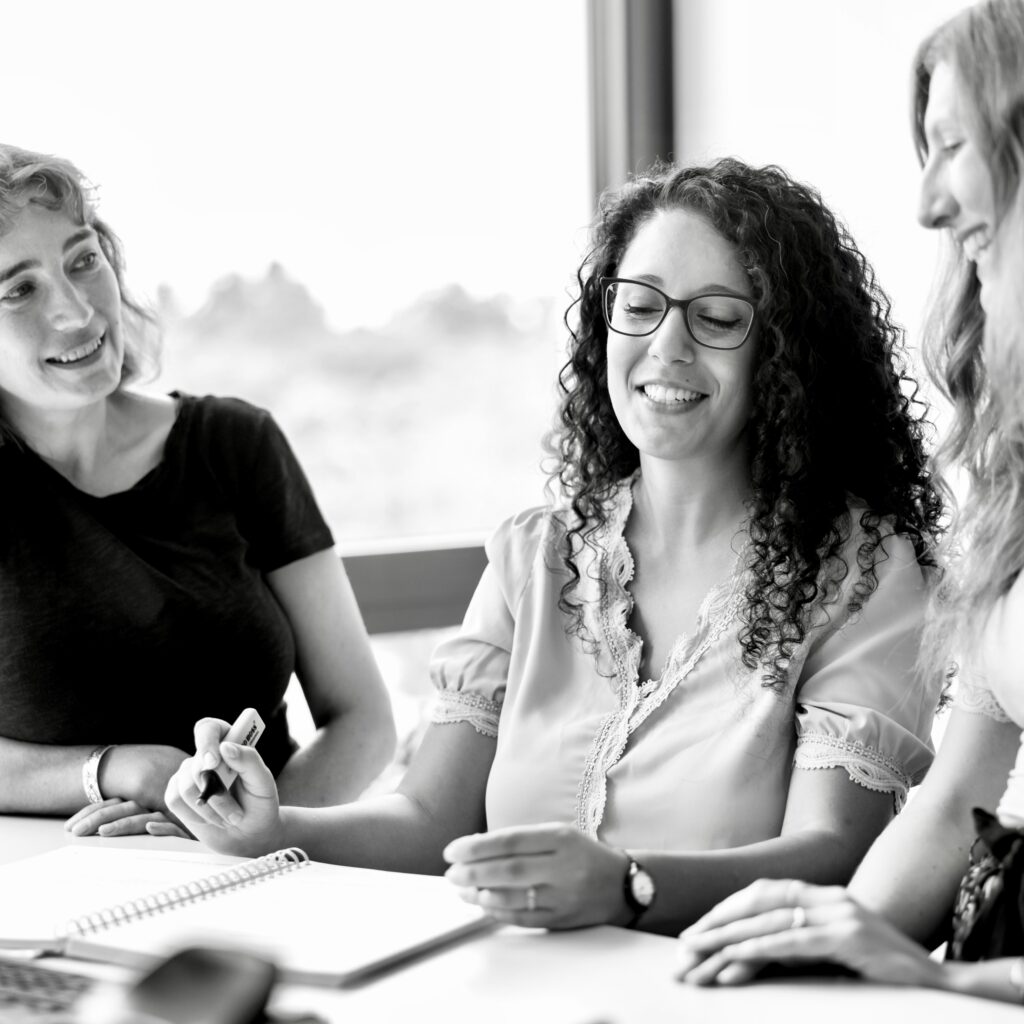 The three of you are a very harmonious team. Who forms part of the International Department?
Silke: Our team consists of three people. I have been with LBP since 2012, Anna-Lena since 2015 and Fotini since 2019.
Do you all have the same education or the same professional background?
Anna-Lena: I am an M.A. translator for French and English. As part of my translation studies at the Ruprecht-Karls-University Heidelberg, I completed a semester abroad in Paris as well as an internship of several weeks at a champagne house in Épernay. The internship allowed me to gain my first practical experience in the areas of translation and project management. Shortly after completing my Master's degree, I became aware of the position at LBP, where my passion for languages and the exciting field of intellectual property law combine very well.
Fotini: I am also an M.A. translator, but for Italian and English. When I chose my courses at the Johannes Gutenberg University in Mainz, I focused on subtitling and specialised translation. At the Università di Bologna, where I spent a semester abroad, I also worked on the Italian subtitling of short films and thus gained my first practical experience in this field. After graduating, I spontaneously applied for a job in the International Department at LBP. I received a great and intensive on-the-job-training by my two colleagues which immediately aroused my interest in trademark, patent and design law, and I am happy to be able to continue working as a translator in this interesting field, albeit not in the traditional sense.
Silke: I am a graduate interpreter for French and Russian. After a one-year stay in the USA and language studies at the Saarland University as well as at the Institut Libre Marie Haps in Brussels and the Ruprecht Karls University in Heidelberg, I worked as a freelance translator/interpreter in France and later in Germany and as an assistant in various companies. During my last employment before LBP, I was responsible for patent and trademark administration. I liked this intellectual property-related work so much that I decided to apply with LBP in order to intensify my knowledge in this highly international field. I am also part of the PatOrg/Genese team, which is in charge of our IP management software.
USA, Champagne, Brussels, Bologna! That sounds very international and these obviously are interesting stations, too! Which languages are covered by INT?
Anna-Lena: English, German, French, Italian, Russian
Can you describe your everyday work life? Are there different responsibilities within the International Department or does everyone do everything?
Silke: We have a pool of tasks sorted by level of urgency, which is handled by all three of us. We share a large room and constantly exchange information about ongoing procedures and specifics. We enjoy working as a team.
Fotini: I see it the same way. We can rely on each other very well. This has the advantage that each of us can substitute for the other and we all have the certainty that if one team member is absent, the tasks will be reliably completed by the other team members.
This is very well solved. Which areas of responsibility or which IP areas does the team basically take care of?
Anna-Lena: We handle all kinds of IP rights, but most frequently international trademarks, national foreign trademarks and European patents.
Do you also have direct external contact with LBP clients?
Silke: Yes, that is an important and favourite part of our work.
Fotini: Of course, and it is always nice to meet people in person.
What do you find rather annoying and what is the most fun?
Silke: It is very exciting to assist in the enforcement of our client's IP rights in Asian countries. Archiving our extensive correspondence with keywords is somewhat tiresome.
Anna-Lena: I also find it exciting that we communicate with correspondent attorneys from all over the world.
Fotini: It is interesting to see where IP rights are enforced all over the world and which options are available.
In which direction does the International Department evolve in your opinion and what are its future challenges?
Silke: We are happy to provide translations from time to time, but these only make up a small part of our work. Our patent attorneys already let us work very independently and offer training opportunities on a regular basis.
Last but not least: There are quite a few plants in your room. How many plants do you have and who takes such loving care of them?
Silke: Our plants (14) are a shared responsibility as well. That increases the plants' chances of survival.
So true!
Thank you very much for this insight into your working life.
If you have any questions, please feel free to contact us.
Picture middle: Lara Solaro
Pictures left and right: Sandra Beuck
All Posts